Tuesday, Apr 16.
We drove thru San Francisco and across the Golden Gate Bridge, stopping on the north side to shoot a few pictures. Although you can't see it, Alcatraz Island is to the left of the bridge from this vantage point, and we're considering taking the boat ride over to see it since neither of us has ever made the trip. Our taxes are paid and neither of us has any outstanding traffic tickets, so we think it's safe. (Meagan...that's a hint for the challenge you have to look up Alcatraz on the internet and find out what it's famous for.)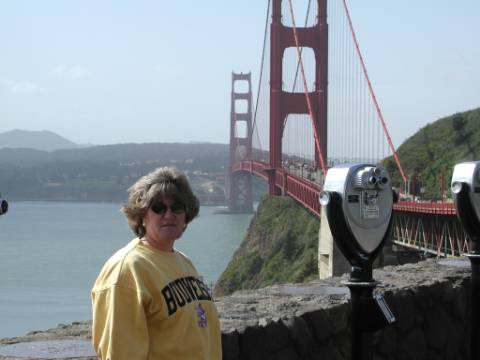 Across the bridge and into the Napa Valley . . and the rain! !
The rain started just after lunch and kept up all day. We tried to walk around town a little bit, but the rain really made is unpleasant. In the few short blocks we walked, we found a wonderful pet store called "Fideaux" where they had unique dog and cat gifts, including a tee shirt that said "I Kiss My Dog on the Lips"...which I sadly left behind.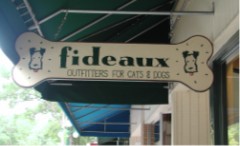 There was also a neat hardware store that carried normal hardware stuff, gifts and these unusual metal sculptures of dogs on motorcycles. We found a neat room in St. Helena at the Vineyard Country Inn, and picked up a bottle of wine, some cheese, some sausage and packed it in for the evening. Nice room with a fireplace and view of the vineyard next to the hotel. The room has a wet bar with refrigerator...and the counter top is four-inch square terra cotta-colored marble tiles...another idea for a new house. In fact, we're so comfortable here we're staying a second night while we go into Sonoma!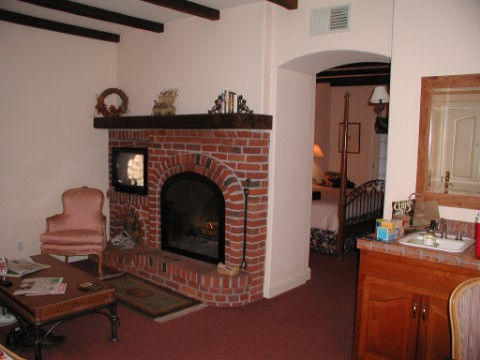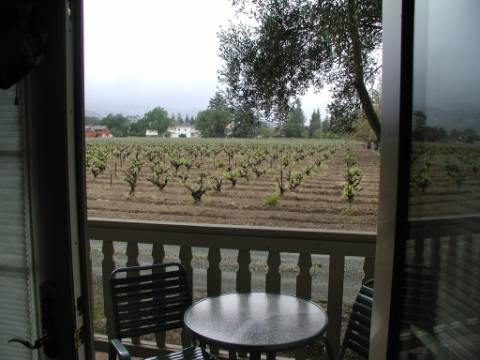 We'll make another run at the wineries and vineyards of Napa tomorrow before moving on to the Sonoma valley for more. If the weather stays like this we will forego the balloon ride across the valley. You can check out the balloon ride site here: